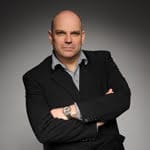 iKVA (formerly Kvasir Analytics) is pleased to announce that Jon Horden has joined as CEO.
Jon brings 20+ years of digital industry experience to iKVA, including being a Senior Vice President at Monater.com, the CEO of eCommerce SaaS provided PrismaStar which was successfully sold to German data company Fact Finder in 2015, the founder and CEO of British Gas' autonomous digital division Local Heroes which Jon grew from nothing to a multi-million company in just two years before handing back to British Gas, and the CEO of HomeServe labs.
Jon also has an MBA from Cranfield and is based in Cambridge.
Chris Doran, iKVA's chairman said "It's great to have Jon on board – his track record of growing young entrepreneurial digital companies and leading them to exit along with fantastic commercial experience is a great addition to iKVA's exiting technical and academic team. I and the Board look forward very much to working with Jon over the next few years and seeing iKVA grow."