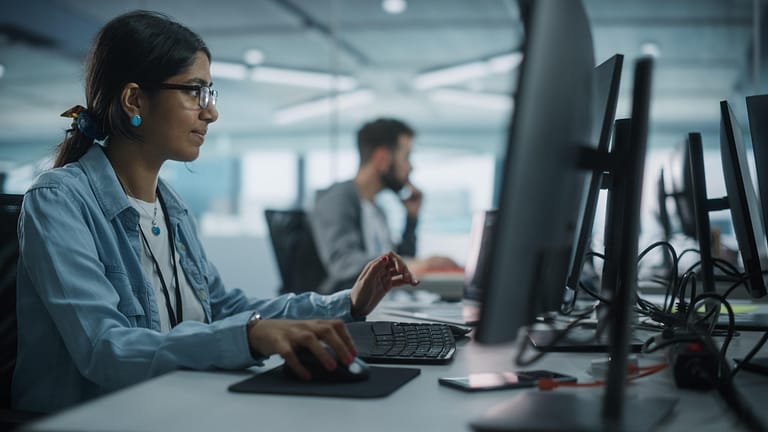 So, you smashed your A-levels and are now waiting to take your place studying STEM.  
Going to university to study a STEM subject is incredibly exciting – but it can also be a bit daunting. You're away from home, away from friends and family, trying to grapple with unfamiliar classes and concepts.   
For women there are more challenges to overcome. Women make up a tiny proportion of students who study STEM subjects. In engineering, just 15% of graduates are female that figure is 19% for female graduates of computer science. 
Computer science and engineering are two of the fastest growing job sectors where you'll find some of the highest paying jobs, however, the lack of female representation and preconceptions about 'lad' culture can sometime make women feel unsure about wanting to go into these fields. 
As part of our desire to see the gender gap close, we asked some of iKVA's women engineers, who currently make up 50% of our engineering team (go, us!), what tips they have for being successful in STEM subjects. This is what they told us: 
You deserve to be there 
"Choosing what's considered to be an unusual career path is always going to be difficult and sticking with it even more so, you really have to believe that you deserve to be there. Recognise that there may be some kind of bias and don't allow this to corrode your self-worth or limit what you feel capable of. Take risks, create opportunities and be your authentic self." said Dr Jo Brook, Senior Engineer iKVA. "Bringing different viewpoints and experiences to the table enriches and strengthens organisations – it's empowering to have a voice in that."
Look to female role models and find a mentor  
Role models can be a brilliant source of inspiration and can increase the sense of belonging within STEM subjects. Chris Martin, iKVA's Head of Engineering, advocates mentorship; "Role models and mentors represent what is possible for women, they demonstrate the behaviours needed to achieve what they now know is possible, and they inspire women to aim higher and be more ambitious. Not only does this help individuals but it's such a great cycle for us all; the mentees of today become the mentors of tomorrow, propelling women further forward in their chosen fields." 
Network, network, network 
"Although we might not all be entirely comfortable putting ourselves out there, networking is incredibly important for women in tech. Connecting with other women within your career space, who have shared experiences and have overcome similar challenges can be a huge source of support when you're just setting out in your career." says Dr Teresa Kim, interdisciplinary data scientist at iKVA. "Not to mention, it's a great way to find people with whom you can share ideas and drive innovation."
Apply for a career with iKVA  
iKVA is an equal opportunities employer and we're proud of the diversity within our team. Take a look at our careers page to find out about the fantastic opportunities currently available.